This is an archived article and the information in the article may be outdated. Please look at the time stamp on the story to see when it was last updated.
At a contentious City Council meeting Wednesday night, Costa Mesa became the latest Orange County community to declare its official opposition to Senate Bill 54, the so-called sanctuary law that provides expanded protections for immigrants who have entered the country without permission.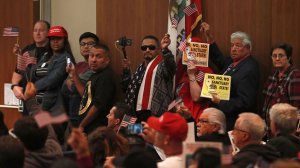 The 3-2 vote to adopt a resolution against SB 54 prompted cheers and chants of "USA! USA!" from opponents of the law, who waited in City Hall until roughly 1 a.m. for the council's vote.
Mayor Sandy Genis, Mayor Pro Tem Allan Mansoor and Councilman Jim Righeimer voted in favor of the resultion. Council members Katrina Foley and John Stephens cast the dissenting votes.
Opponents of the resolution responded with cries of outrage.
Read the full story on LATimes.com.