This is an archived article and the information in the article may be outdated. Please look at the time stamp on the story to see when it was last updated.
Nearly 25 years after the unrest sparked by the acquittal of the Los Angeles Police Department officers involved in the beating of Rodney King, violent confrontations between law enforcement and citizens remain a major concern.
The L.A. County Commission on Human Relations on Saturday held a forum at the Watts Labor Community Action headquarters to hear residents' testimony of their experiences with police in hopes of soliciting concrete ideas on how to improve relations between communities and law enforcement agencies.
The Los Angeles Police Department inspector general was also present at the three-hour meeting as residents shared their stories of the pain of racism and alleged police brutality.
People in the community grow up feeling that police mistreatment and racial profiling are an almost inevitable occurrence, according to attendee Kim Isaacs.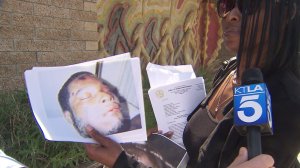 "I have a son and he's 13," she said. "Certainly we raised him a certain way, to be respectful of all authority, but that's no guarantee that he's going to have a positive experience."
Isaacs added that recently a young girl used a racial slur to refer to her.
Nefertiti Brown brought a coroner's picture of a dead man's face, badly bruised and beaten.
"This is my son that was murdered and beat to death in the county jail," she said.
The commissioners listened intently to the citizens' testimony and will incorporate it into a report they plan to delivery on the anniversary of the Rodney King riots in April.