This is an archived article and the information in the article may be outdated. Please look at the time stamp on the story to see when it was last updated.
A couple who allegedly shot at more than 14 people at random across Whittier, Pico Rivera and La Mirada have been charged in the deadly shooting rampage that lasted for more than three hours over the weekend, officials announced Thursday.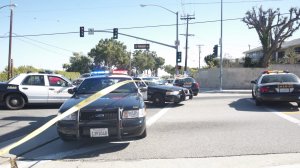 Alejandro Lazo, 21, and Reyna Gomez, 27, have each been charged with one count of murder, 14 counts of attempted murder, and one count of carjacking in the April 29 string of crimes that left a 44-year-old man dead and three others wounded, the Los Angeles County District Attorney's Office said in a released statement.
Gomez was also charged with one count of torture, prosecutors added.
"In a matter of three hours, these known gang members were involved in five shootings, four in which individuals were struck by gunfire and a carjacking. These are senseless acts of violence -- acts committed on innocent people that were merely enjoying the day, running errands in what they believed was a safe area," Sheriff's Department Capt. Christopher Bergner said at a news conference Thursday.
The rampage began about 1 p.m. when the couple, driving in a white Kia Rio, fired shots at a pedestrian in the 10000 block of Carmenita Road in an unincorporated area near Whittier. That victim, a man, was listed in stable condition after the shooting, sheriff's officials said.
Then, about 2:15 p.m., the couple allegedly carjacked a person at gunpoint in the 11100 block of Rosehedge Drive in Pico Rivera, and drove the stolen green Nissan Pathfinder to Whittier. At about 3:35 p.m., prosecutors said the couple shot a man in an alley in the 14900 block of Whittier Boulevard. The man was struck in the groin and listed in stable condition.
A few minutes later, at 3:41 p.m., sheriff's officials said the couple shot at two motorists while they were stopped at a traffic light in the 10200 block of Colima Road in Whittier. The motorists escaped unharmed.
From there, sheriff's officials said Lazo and Gomez drove to La Mirada. At the intersection of Imperial Highway and La Mirada Boulevard, they allegedly shot a man seated in his car and stopped at a traffic light. The man was struck in the arm.
Detectives said Lazo drove the Pathfinder, while Gomez was in the front passenger seat.
"The two passed the handgun between the two of them, taking turns shooting at innocent victims," sheriff's officials said in a released statement.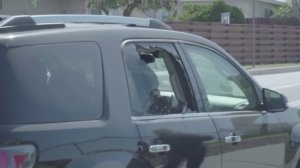 As deputies from the Norwalk Sheriff's Station responded to the La Mirada shooting, they learned another shooting had just occurred nearby at the intersection of Santa Gertrudes Avenue and Alicante Road. Jose Ricardo Sahagun, 44, was sitting in his car waiting at a traffic light and was shot several times, sheriff's officials said.
Sahagun was in the car with his wife and little boys when he was shot. He was pronounced dead at the scene, sheriff's officials said.
People in nearby cars were also shot at, but were unharmed, sheriff's officials reported.
Sahagun's family told KTLA he was dedicated to his family and the community.
"He was about justice and he was about providing not only for his children but also for his community. That's what he did for his life. He taught in Compton, then he went back to Compton to serve the community as a social worker," Sahagun's sister, Maria, told KTLA.
Norwalk deputies located the stolen Pathfinder at about 6:30 p.m. in the parking lot of Amelia Mayberry Park near Whittier.
Lazo and Gomez were finally located about 8 p.m. when Whittier police responded to a 911 call about two gunshot victims at a hotel in the 15000 block of Carmenita Road in Santa Fe Springs. Sheriff's officials said the couple were each shot in the torso and flagged down a citizen to call 911 when they realized the severity of their injuries.
The couple were taken to a hospital for medical treatment and later booked into the Los Angeles County jail system. It's not clear who shot them.
Detectives learned the white Kia Rio was reported stolen out of Ventura County and used by the couple in the first shooting. A handgun found in the Rio matched ballistic evidence recovered from each crime scene, sheriff's officials said.
Lazo and Gomez are being held on $16 million bail each. Authorities did not release booking photos of the suspects.
If convicted as charged, they face a possible maximum sentence of life in prison.
Investigators say additional suspects aided in the shooting rampage and expect to make additional arrests.
Anyone with information about the incidents is asked to call the Los Angeles County Sheriff's Department Homicide Bureau at 323-890-5500, or the Whittier Police Department at 562-567-9200.