This is an archived article and the information in the article may be outdated. Please look at the time stamp on the story to see when it was last updated.
A mother and her boyfriend were arrested Thursday on suspicion of child endangerment and conspiracy, one day after a 3-year-old girl's body was discovered in the back seat of an improperly parked SUV in Rancho Cordova, police said.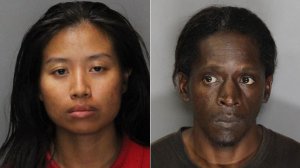 The investigation began when a motor officer observed a white Toyota Rav-4 was parked the wrong way on Rod Beaudry Drive about 12:30 p.m. Wednesday, according to a statement from the Rancho Cordova Police Department.
The officer noticed two individuals around the SUV, identified as 27-year-old Angela Phakhin and 46-year-old Untwan Smith, both of Arkansas, and contacted them.
After determining they owned the vehicle, a records check was performed, which revealed an outstanding warrant for Smith in Arkansas, according to the statement.
That led to a search of the SUV, where officers discovered the unresponsive toddler underneath some blanket in the back seat of the SUV, police said.
She was pronounced dead at the scene. No obvious signs of trauma were found on the body.
Detectives with the Sacramento County Sheriff's Office's Child Abuse Bureau and the county coroner then began an investigation into the child's death.
It was not immediately known when and how the child died; a cause would be determined after an autopsy is completed.
Investigators, however, believe child endangerment may have led to the little girl's death, according to the statement.
Phakhin has been identified as the biological mother of the child; Smith is her boyfriend.
Detectives believe the couple arrived in Northern California in February, and have been living out of the SUV with the child throughout the city and county since.
After the arrests, both were booked at the Sacramento County Main Jail, where they are each being held in lieu of $1 million bail, according to the statement.