This is an archived article and the information in the article may be outdated. Please look at the time stamp on the story to see when it was last updated.
A man and woman who were seen embracing and kissing after a lengthy police pursuit through southeast Los Angeles earlier this month were sentenced to prison Friday, the Los Angeles County District Attorney's Office announced.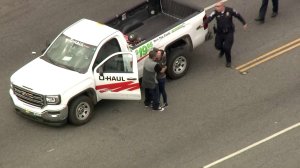 Trisha Marie Martinez, 24, pleaded no contest to driving or taking a vehicle without consent, fleeing a pursuing peace officer's motor vehicle, and driving under the influence of an alcoholic beverage.
Her co-defendant, Harold Brian Escobar, 29, also pleaded no contest to receiving a stolen vehicle and fleeing a pursuing peace officer's motor vehicle while driving. He also admitted that he was previously convicted of carjacking in 2010, officials said.
Martinez was sentenced to 16 months in prison, while Escobar was sentenced to four years in prison.
The pair were spotted in a stolen U-Haul truck that ran a stop sign in Bell Gardens on Jan. 3, officials said.
Martinez, who was identified as the driver, did not stop as police attempted to pull her over.
She led police through several surface streets and freeways, crashed into another vehicle and eventually stopped in Montebello.
Sky5 was overhead as Escobar appeared to stop Martinez from getting out of the vehicle and surrendering to law enforcement.
Eventually she got out and Escobar forced Martinez into a "bear hug," refused to let her go and repeatedly kissed her, aerial video showed.
The two were eventually taken into custody after Escobar was struck by a stun gun.
The bizarre incident was investigated by the Bell Gardens Police Department.