This is an archived article and the information in the article may be outdated. Please look at the time stamp on the story to see when it was last updated.
Jan Sanborn and Loren Janes' Canyon Country home was reduced to a rubble of ashes from the destructive Sand Fire and the shock is still setting in.
The wildfire that has destroyed 18 homes and claimed one life ripped through the elderly couple's property on Saturday.
"We felt we were safe," Sanborn told KTLA on Monday.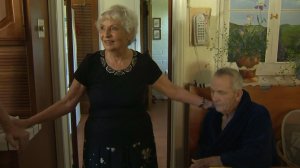 Sanborn and her husband were able to leave their home of 18 years just in time, finding refuge at their friend's house in Sherman Oaks.
The pianist and published composer isn't concerned about the material possessions that are now gone, instead her focus is rebuilding a new life for her and Janes, a retired Hollywood stuntman who is battling Alzheimer's.
"He had a scrapbook of collection of his entire life and that is gone," Sanborn said.
"And all my music is gone. My piano is gone."
Despite the destruction of her home and all she has lost, Sanborn said the fire didn't destroy her faith and she keeps a passage from one of her favorite books in mind.
"'I can take the deepest sorrow and weave it into a pattern for good.' That's my message in all of this. That God will weave this into a pattern for good," she said.
Sanborn also takes comfort in the company of close friends who took them in and a piano in their temporary home.
A GoFundMe page has been set up for the couple. Click here for more information.