This is an archived article and the information in the article may be outdated. Please look at the time stamp on the story to see when it was last updated.
A 28-year-old Covina police motorcycle officer died after a traffic collision Tuesday afternoon that sent another motorist to the hospital, authorities said.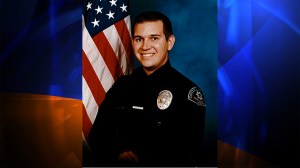 The crash occurred at West Puente Street and North Citrus Avenue (map) just before 2 p.m., according to Sgt. Gregg Peterson with the Covina Police Department.
Officer Jordan Corder, 28, was killed, Covina Mayor Peggy Delach said early Tuesday evening. The officer's father is a retired Covina police sergeant, Delach said.
Police later said his father was retired Capt. Mark Corder, who served 31 years in the department.
"The Covina police department family and community suffered a terrible loss today," said Capt. Derek Webster at a news conference Tuesday evening.
Family friend and retired Lt. Scott Pierson described Corder as "a great kid."
Following in his father's footsteps, Corder became an officer in 2007, but only joined the department's motorcycle unit in May.
On Tuesday, Corder was traveling southbound on his motorcycle on Citrus Avenue when his motorcycle collided with a Honda CR-V that was turning left, Peterson said.
He was thrown from his motorcycle, the sergeant said. Both he and the 75-year-old woman driving the SUV were transported to a hospital.
Aerial video from the crash scene showed the severely damaged Honda CR-V smashed into the motorcycle, which lay on its side. Debris was scattered across the intersection.
Witnesses said Corder was chasing another motorcyclist through a red light when he was hit. The officer flew up into the air and landed on his face, a witness said.
He was rushed to nearby Inter-Community Hospital where he was pronounced dead.
A tearful man who identified himself as a fellow motorcycle officer said he wants to see the man Corder was chasing arrested.
"I hope they catch the guy on the bike,"Carlos Rosales said. "This is murder now."
The condition of the CR-V driver was not released.
The California Highway Patrol was investigating, with police assisting. The intersection was shut down for several hours.
Corder grew up in Covina and graduated from Charter Oaks high school.
KTLA's Scott Williams, Kennedy Ryan and Nidia Becerra Tijerino contributed to this article.