This is an archived article and the information in the article may be outdated. Please look at the time stamp on the story to see when it was last updated.
More than 1,000 firefighters were for a third day battling the nearly 18-square-mile Cranston Fire in the Idyllwild area Friday, after a night in which flames remained active.
The fire, which has already destroyed five homes, has grown to 12,300 acres, Cal Fire officials confirmed around 6:45 p.m.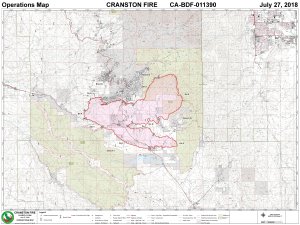 Nearly 5,000 structures are threatened, and 7,000 people have been evacuated.
Containment of the fire was raised to 16 percent Sunday evening from just 3 percent earlier in the day.
Overnight, an increase in the number of hot spots was detected, but the flare-ups remained within the existing fire perimeter, authorities said.
Midday Friday, helicopters could be seen making water drops on a flare-up in the area of Garner Ranch, a cattle ranch off Highway 74 below Idyllwild. DC-10 air tankers were also working the blaze.
"This is devastating," ranch owner Meg Garner said. "I feel so bad for Idyllwild. ... They don't deserve this."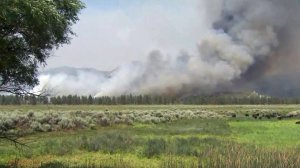 Garner celebrated the arrest of a man suspected of setting the Cranston Fire.
Temecula resident Brandon McGlover, 32, was on Friday charged with and pleaded not guilty to 15 felony counts in connection with the nine separate fires. He was arrested early Wednesday afternoon, shortly after the Cranston Fire started off Highway 74 between Hemet and Mountain Center.
"Do you understand what you have done – how many lives you have affected?" Garner said, addressing McGlover. "What were you thinking? ... Shame on you."
Power is out in much of the region, and many residents rely on wells for water, meaning they can't get water unless they have a generator, Garner said.
On Thursday, Gov. Jerry Brown declared a state of emergency in Riverside County due to the Cranston Fire.
Idyllwild, at an elevation of about 5,400 feet in a scenic area of the San Jacinto Mountains that is popular with hikers and outdoor enthusiasts, is about 90 miles east of Los Angeles.
About five years ago, the Mountain Fire burned 43 square miles in the same area.
Evacuation orders remain in place for the following areas:
• Apple Canyon Area
• Cedar Glen
• Camp Scherman Girlscout Camp
• Fern Valley
• Hurkey Creek Area
• Idyllwild
• Lake Hemet Area
• Mountain Center Community
• Mount San Jacinto State Park
• Pine Cove
Evacuation centers are open at Banning High School, at 100 W. Westward Ave., and Hamilton High School, 5743 Mitchell Road in Anza.
A full list of campground and recreation area closures can also be found on the InciWeb page.
Large animals can be dropped off at the Dysart Equestrian Park on West Victory Avenue in Banning.
Small animals are also being accepted at the equestrian park but will be transferred to the San Jacinto Valley Animal Campus, which is accepting both large and small animals. The Animal Campus is located at 581 S. Grand Ave. in San Jacinto.
Highway 74 is closed from the city of Hemet to Lake Hemet. Officials have also shut down Highway 243 from Banning to the intersection of the 243 and Highway 74.
The U.S. Postal Service said its post offices in Idyllwild and Mountain Center were temporarily closed due to the fire. Local postal customers can pick up mail at the San Jacinto post office, 315 E. Esplanade Ave., starting Saturday.
About 1,300 fire personnel have been sent to help fight the fire. Three of them have been injured.
Two other major wildfires are also burning in California, prompting Gov. Brown to declare states of emergency in those areas as well.
The Carr Fire, which has claimed two lives as of Friday morning, is burning in Shasta County.
In Mariopsa County, the Ferguson Fire continues to threaten Yosemite National Park.
KTLA's Melissa Pamer contributed to this article.
#CranstonFire, South Coast Air Quality Management District has issued a smoke advisory, more information can be found at https://t.co/TJSUVI09BA pic.twitter.com/qEbqO3fnUe

— San Bernardino National Forest (@SanBernardinoNF) July 27, 2018