This is an archived article and the information in the article may be outdated. Please look at the time stamp on the story to see when it was last updated.
A 30-year-old father died Thursday morning when his vehicle slammed into a building in the Pico-Robertson neighborhood in what police said could have been a street racing or road rage-related incident. The crash happened just before 6 a.m. on Pico Boulevard near South Crest Drive. Los Angeles firefighters arrived quickly but the driver was pronounced dead at the scene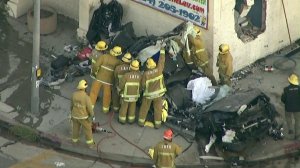 The driver, Ernest Jordan, was on his way to work when the crash occurred, his father William Jordan told KTLA. The car was traveling westbound on Pico Boulevard when the driver lost control and crashed into a building, which appeared to be vacant and was unoccupied at the time, Lt. Lonnie Tiano with the Los Angeles Police Department's West Traffic Division said. Later described by police as a dark blue 2015 Infiniti Q70L, the car was driving at a high rate of speed just as a gray SUV was also speeding westbound along Pico at the same time, according to LAPD. Surveillance video appeared to show the two vehicles pass by. After the crash, the driver of the SUV never stopped, police said.
Williams Jordan said racing would be out of character for his son, a single father of two preteen girls. He described his son as hard working and "jolly." The building that Jordan's car struck was left with a gaping hole in the side. No one else was injured in the crash. Tiano said at a morning news conference that police were trying to determine what led to the crash and if speed was a factor but LAPD's West Traffic Division said in a
tweet
that the incident "appears to be a violent crash from possible street racing." LAPD officials later indicated in a news release that road rage is also being investigated as a possible cause.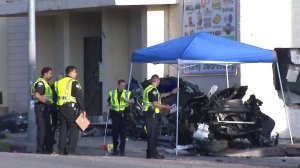 The Infiniti was in such bad shape that investigators had to use registration information just to determine the vehicle's make, Tiano said. Westbound lanes of busy Pico Boulevard were closed down while firefighters worked the scene.
KTLA's Marissa Wenzke contributed to this report.