This is an archived article and the information in the article may be outdated. Please look at the time stamp on the story to see when it was last updated.
A multi-vehicle crash involving 10 to 12 vehicles snarled traffic for morning commuters Wednesday and prompted a SigAlert on the 110 Freeway in downtown Los Angeles.
The incident began just before 5 a.m. when two vehicles collided on the northbound side of the 110 Freeway near 9th Street, according the California Highway Patrol's traffic incident log.
Several other vehicles were quickly caught up in the crash that was blocking the number one lane, the CHP reported.
Aerial video from Sky5 showed fire crews rescue a person who was trapped in one of the vehicles.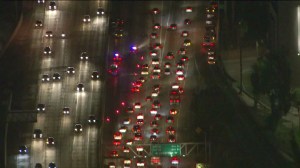 Debris and oil was left on the freeway resulting in several other vehicles having to pull over the right shoulder with blown out tires, the CHP stated.
A total of 10 to 12 vehicles were involved in the incident, according to the log.
Authorities issued a SigAlert for the number one and two lanes at 5:45 a.m.
The SigAlert was expected to continue for one to two hours, according to the log.
Traffic was backed up for several miles behind the crash, video showed.
The freeway was cleared just before 7 a.m. and the SigAlert was canceled, the CHP log stated.