This is an archived article and the information in the article may be outdated. Please look at the time stamp on the story to see when it was last updated.
A bicyclist died Thursday morning after being struck by a car in a Panorama City crash that was described as a "tragic accident" by police.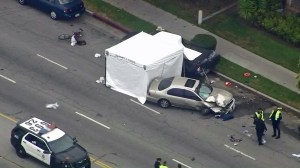 The crash occurred on Woodman Avenue just north of Strathern Street about 5:42 a.m., said Capt. Beverly Lewis with the Los Angeles Police Department.
The motorist was traveling northbound on Woodman Avenue when he struck a person who was riding a bicycle and pulling a shopping cart, Lewis said.
The bicyclist was pronounced dead at the scene, Lewis said.
After hitting the bicyclist, the driver then careened into several parked cars before coming to a stop, Lewis said.
The motorist stayed at the scene and investigators determined the driver was not impaired, Lewis said.
"We were able to determine that there was no crime involved," Lewis said. "It was just a tragic accident."
Woodman Avenue between Strathern and Willard streets were expected to remain closed until about 10 a.m. during the investigation.
Drivers were asked to avoid the area.