This is an archived article and the information in the article may be outdated. Please look at the time stamp on the story to see when it was last updated.
A man who was shouting that someone was trying to kill him was captured on a surveillance camera early Wednesday trying to break into a North Hollywood home using a porch bench as a battering ram.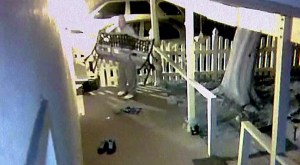 Jose Nunez was sleeping when he was woken up around 12:45 a.m. to the sounds of a "crazy guy screaming" outside his house.
The aggressive man was charging at the front door and ramming it with his shoulder, all the while yelling, "They're coming to get me. They're trying to kill me … Let me in," according to Nunez.
"He's just going nuts," the homeowner said.
Then, things escalated as the man grabbed a bench from the porch and began using it in a frantic effort to bash in Nunez's children's bedroom window, the video showed.
Fearing for his family's safety, Nunez grabbed his gun and confronted the man.
"If he gets into the house, I've got a whole other set of problems. So I grabbed my gun and I say, 'Hey, look I've got a gun … if you don't stop this I'm going to come out,'" Nunez said. "And he just keeps ramming it."
Nunez opened the door and pointed his handgun at the would-be intruder.
"'I say, 'Drop the bench.' At that point, he drops the bench but starts charging right at me," Nunez said.
The father had his finger on the gun's trigger but decided against pulling it after looking at the man's face.
"The look he had was not an aggressive look, it was … a crazy zombie-type look," Nunez said. "I didn't want to shoot the guy even though I probably had every right to."
Instead, Nunez closed the door just before the man got to him.
The banging and screaming continued until police arrived minutes later and took him into custody.
Nunez ultimately declined against pressing charges.
"Basically, I told the cops, 'Look, if it's a mental thing, just get him some help and get him out of here and hopefully we'll never see him again,'" he explained.
Nunez, who has lived in the area for about two years, told KTLA he had never seen the man before that night.
More video: