This is an archived article and the information in the article may be outdated. Please look at the time stamp on the story to see when it was last updated.
A Burbank home owned by the parents of television star Justin Baldoni was seriously damaged in an accidental fire that was started by an appliance in the garage on Friday, authorities said.
A garage fire was reported in the 300 block of West Spazier Avenue (map) at 11:19 a.m., according to a spokesperson for the Burbank Fire Department. It quickly spread from the rear detached garage to the home.
Everyone got out of the house OK, but the male and female homeowners suffered minor smoke inhalation and were treated by paramedics on scene.
About 45 fire personnel from Burbank and Glendale responded and the fire was knocked down within about 25 minutes, according to Burbank fire Capt. Peter Hendrickson, who said the blaze started with an appliance.
Baldoni, who stars on The CW's "Jane the Virgin," approached a KTLA reporter covering the fire and said he was an actor on a hit show on the network. Baldoni said he did not want to be put on camera but he did walk by a KTLA camera and smile.
The home is owned by his mother, Sharon Baldoni, public records show. The actor's parents live in the home, his father said.
Video from the scene showed Baldoni being consoled by others in front of the home at about 1:30 p.m.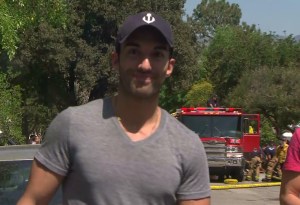 During the firefight, aerial video from Sky5 showed a backyard structure engulfed in flames as crews worked to douse the fire. Smoke was also coming from the roof of the home where firefighters had cut holes for ventilation.
At one point, a horse could be seen as it was led down the street away from the home. Some electrical wires were down near the rear of the home, according to the Fire Department spokesperson.
The occupants heard and smelled the blaze, fire Capt. Peter Hendrickson said. They were able to get three dogs and two horses to safety at a neighbor's home, the captain said.
The house is in the Rancho equestrian area of Burbank, where many residents keep horses.
Damages to the structures and their contents was estimated at $200,000, Hendrickson said.
Baldoni is 31, according to his IMDb page.
Correction: An earlier version of this story incorrectly spelled the fire captain's last name. The story has been updated.