This is an archived article and the information in the article may be outdated. Please look at the time stamp on the story to see when it was last updated.
A mother was happy to get her baby out alive after a fourplex next door went up in flames in North Hollywood Wednesday.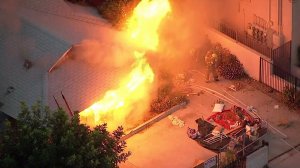 The fire began about 5:30 a.m. in the 11000 block of West Magnolia Boulevard, Los Angeles Fire Department spokeswoman Margaret Stewart stated.
A row of garages were well involved with flames and at least two other buildings were exposed, according to Stewart.
Aerial video from Sky5 showed firefighters fighting the blaze from on top of a nearby roof.
About 75 firefighters were sent to battle the fire, which eventually spread to the vacant fourplex.
The flames also threatened a nearby three-story apartment complex, where the noises awoke Shawna Yager.
"I went in and grabbed my baby … she was standing in her crib screaming and there were flames coming in the window," Yager said. "We came out and the entire place next door was just up in flames so I'm just so grateful I got my baby out alive."
By 6:15 a.m., crews had extinguished the parking garages and were close to putting out the flames in the fourplex.
No injuries were reported.
There was no immediate word on a possible cause of the fire.