This is an archived article and the information in the article may be outdated. Please look at the time stamp on the story to see when it was last updated.
Five people died after a small plane crashed into a neighborhood in Yorba Linda on Sunday afternoon, officials said.
The twin-engine Cessna 414A had just departed the Fullerton Municipal Airport when the incident happened under unknown circumstances, Allen Kenitzer of the Federal Aviation Administration told KTLA.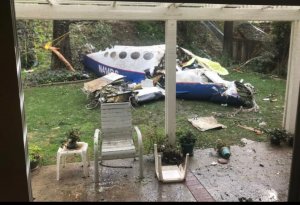 The pilot of the plane, as well as four people on the ground, died as a result of the crash at about 1:45 p.m., Ornge County Sheriff's Department Lt. Cory Marino said. Two other victims were hospitalized with burn injuries and a firefighter was also treated for minor injuries.
The pilot was initially described only as male, Orange County Sheriff's Department officials said. Those killed in the home were described as two male victims and two female victims.
Witnesses told KTLA the aircraft appeared to catch fire and disintegrate mid-air before wreckage rained down on the neighborhood at Crestknoll and Glendale drives, setting two homes on fire.
"The plane blew up about 100 feet off of the ground. The plane blew up in the sky," neighbor Jared Bocachica said.
"I come out …it's raining plane parts from he sky," he said. "The plane didn't hit and scatter, it blew up and hit the house."
Witness video footage showed flames emanating from the plane as it tumbled toward the ground.
Firefighters arrived to find one home engulfed in flames, according the the Orange County Fire Authority. The flames soon spread to a second home.
Flaming aircraft wreckage could be seen strewn throughout the neighborhood.
The debris field covered an area four blocks long, officials said.
The aircraft's fuselage came to rest in a residential backyard. A man could be seen in video footage using a garden hose to extinguish a flaming piece of wing in the street.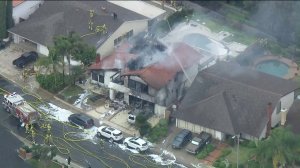 The FAA and the National Transportation Safety Board are both investigating the crash, Kenitzer said.
FAA records show Oregon-based KL Management LLC applied for the registration of the plane, which was manufactured in 1981. The registration was pending.
It was not clear Sunday night whether any distress call was made from the plane before the crash. The investigation into the cause of the crash was expected to take months to complete.
Sheriff's officials said road closures near the crash scene would remain in effect due to the large-scale debris field.
Nearby Glenknoll Elementary School, which authorities were using as a command post for the incident, was to be closed on Monday, sheriff's officials said.
A few houses down the propeller and engine landed in their yard pic.twitter.com/inMz4BJvks

— Joshua Nelson (@JoshuaRNelson) February 3, 2019
OCFA, Anaheim, Orange and OCSD on scene of a small aircraft down into a single family house. 1 structure involved, 2 people dead, 2 patients transported to local hospital. OCFA in Unified Command with @OCSheriff_ .
Press Conference TBD pic.twitter.com/F0FzibNcU3

— OCFA PIO (@OCFA_PIO) February 3, 2019