This is an archived article and the information in the article may be outdated. Please look at the time stamp on the story to see when it was last updated.
Federal officials said they've detained 10 Chinese nationals and two Hispanic males who arrived by boat in the Huntington Beach area on Monday.
Authorities had received a call about a smuggling vessel, said Matt Rice, assistant special agent for Homeland Security Investigations. The agency responded to the area of 16196 Pacific Coast Highway along with local police, Customs and Border Protection and the Coast Guard.
Rice said the individuals from China consist of nine males and one female. He said it's unknown whether the two Hispanic males were "smuggling guides" or part of the "smuggling venture."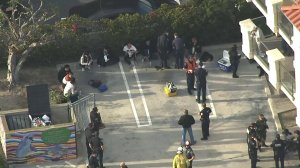 They were all evaluated and deemed healthy, Rice added.
After docking, the group split up and immediately tried to run for cover and hide in nearby businesses, witnesses said.
A clerk from a motel in the area said he saw two men, who appeared wet, tired and scared, trying to hide in the motel's parking garage.
Another witness, Andrea Moyes, said she saw the individuals crossing the street. She said the group, who did not seem to speak English, approached her business and said "back, back."
"We told them we're not open for business… They were not violent," Moyes said. "They just turned around."
Officials soon came and later asked her if the group from the boat could get some water and use the restroom, Moyes said.
A spokesperson with the Department of Homeland Security told KTLA that investigators were not speculating on the boat's point of origin at this point, but were conducting interviews to determine what happened. If investigators identify smugglers in this case, they will be prosecuted.
The other passengers could face deportation, authorities said.
The case is being investigated by the U.S. Coast Guard, the Orange County Sheriff's Harbor Patrol, Customs and Border Protection with the Department of Homeland Security, U.S. Immigration and Customs Enforcement, as well as Huntington Beach and Seal Beach Police.
KTLA's Nouran Salahieh contributed to this report.
#hbfd_pio (final) A total of 12 patients were evaluated at the scene. Homeland Security is now investigating and all future information will be released by @DHSgov. #huntingtonbeach #hbfd

— Huntington Beach FD (@HBFD_PIO) January 28, 2019
#hbfd_pio Huntington Beach crews on scene to a Multi-Casualty incident, 9 patients arrive on boat more information to come. PIO en route. #huntingtonbeach #hbfd pic.twitter.com/G2d8XDiBZ6

— Huntington Beach FD (@HBFD_PIO) January 28, 2019