This is an archived article and the information in the article may be outdated. Please look at the time stamp on the story to see when it was last updated.
Los Angeles County Fire Department crews knocked down a fire at a recycling plant in Commerce Friday afternooon, officials said.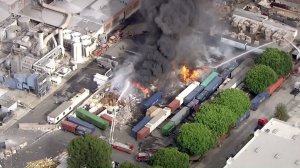 The blaze was reported about 2:10 p.m. near the intersection of Eastern Avenue and 61st Street. The blaze was knocked down more than two hours later, officials said, but remained at the scene for "extensive overhaul."
Cardboard material was apparently burning in the fire and about 50 firefighters were using water and foam to battle the flames.
Heavy equipment was used to break down materials and firefighters worked to put out smoldering embers, according to the fire department.
No injuries have been reported.
Black smoke from the blaze was billowing above the area, aerial video from Sky5 showed.
— L.A. County Fire Department (@LACoFDPIO) October 28, 2016
KTLA's Matt Phillips contributed to this story.