This is an archived article and the information in the article may be outdated. Please look at the time stamp on the story to see when it was last updated.
Crews continue to repair a sinkhole that a woman fell into in Studio City and officials planned to reopened part of the road on Monday.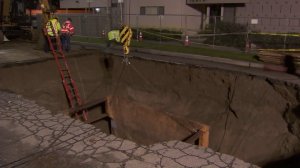 The sinkhole at Woodbridge Street at Laurel Canyon Boulevard swallowed two vehicles during a torrential rainstorm Friday night. A woman was rescued after her car fell into the hole and before another vehicle that was teetering above fell in. The woman was not injured.
Officials said over the weekend that shoring on the road was complete, but the sewer flow needs to be reduced to finish the repair.
Crews Monday were hoping to have one lane in each direction of Laurel Canyon open at 7 a.m. and will work on a bypass pipe in the meantime. The area will close up again at 8 p.m. Monday for crews to repair the sinkhole.
Sanitation department operations manager Paul Blasman said the road will be opened up again at 6 a.m. Tuesday, but that it will take several weeks worth of repairs to completely repair the hole.