This is an archived article and the information in the article may be outdated. Please look at the time stamp on the story to see when it was last updated.
A GoFundMe campaign set up to "help protect Betty White from 2016" had raised more than $1,200 by Tuesday night.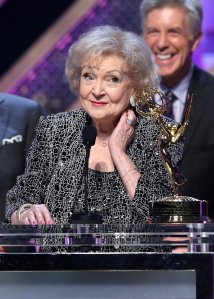 The page was set up by Spartanburg, South Carolina, resident Demetrios Hrysikos, who wrote that he would fly to be by the 94-year-old actress' side to "keep her safe" until Jan. 1, 2017 — as long as she's OK with it. Assuming she's not, the money raised will be donated to the Spartanburg Little Theater, a local theater company that has programs supporting up-and-coming performers.
"I'd like to think that Betty, Carrie and Bowie would be happy with any proceeds going to that cause, which I assure you it will," Hrysikos wrote on the page. "This has been unexpected but let's make it a good thing."
The fundraising idea came to him after he heard about the death of beloved "Star Wars" actress Carrie Fisher earlier in the day, Hrysikos said, adding he hopes the initiative can put a smile back on people's faces while supporting a worthy cause.
This year "has taken so many great artists, and [the Spartanburg Little Theater] helps support and nurture new budding talent in our town," he wrote.
White, perhaps best known for her portrayal of the saccharine-yet-sassy Rose on "The Golden Girls," has become a bulwark of Hollywood longevity. Many of her award-winning roles came after she turned 50, contrary to industry norms.
"The message is, you can't get rid of me," White told ABC News in 2011 after being named the face of AARP.
Click here to visit Hrysikos' GoFundMe page.