This is an archived article and the information in the article may be outdated. Please look at the time stamp on the story to see when it was last updated.
A Cal State Northridge student athlete was charged Tuesday with sexually assaulting multiple women, according to the Los Angeles County District Attorney's Office.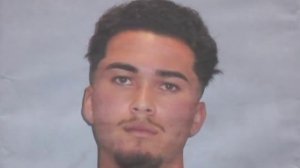 Davis Moreno-Jaime, 19, of Loma Linda, faces one felony count each of forcible rape and false imprisonment by violence, and one misdemeanor count each of sexual battery and battery, Deputy District Attorney Julie Kramer stated.
According to the criminal complaint, Moreno-Jaime sexually assaulted one woman in January, then sexually assaulted another woman and battered a third woman in July, a DA's office news release read.
The cases against him were reported in various areas of Southern California, according to CSU Northridge Police Chief Anne Glavin.
Moreno-Jaime was being investigated in connection with assaults that occurred in the San Fernando Valley, on the CSUN campus and at an undisclosed location outside of L.A. County, Los Angeles Police Department Capt. Bryan Lium said.
Authorities had said that the first case was reported to LAPD's Devonshire Station in April 2017.
The freshman student — a business marketing major and player for the school's soccer team — was arrested on campus Friday afternoon. He was also suspended from the university, officials said.
Moreno-Jaime was scheduled to be arraigned Tuesday at the San Fernando branch of L.A. County Superior Court.
If convicted as charged, he faces a possible maximum sentence of 12 years in state prison.
Prosecutors were requesting bail be set at $1 million.
The university's president, Dianne Harrison, said during a news conference on Friday that the campus has a "zero-tolerance policy" for handling reported sexual assaults.
"On behalf of the CSUN community, we extend our deepest sympathies to everyone impacted by these disgusting crimes," Harrison said, saying the campus is committed to supporting survivors of assault.
Investigators believe the victims may have known the alleged assailant and urged any additional victims to come forward.
Anyone with information about these cases was asked to contact LAPD sexual assault investigators at 818-832-0609. Anonymous tips could be forwarded to 800-222-8477.