This is an archived article and the information in the article may be outdated. Please look at the time stamp on the story to see when it was last updated.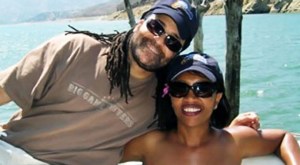 LOS ANGELES — A former recruiter at California State University Northridge was convicted Monday in the murder of his wife, who was last seen in 2009.
Lyle S. Herring was arrested in 2010 after a 14-month investigation into the disappearance of his wife, Lesley.
Though her husband was the last to see her, it was Lesley's sister, actress Aasha Davis, 35, who reported her missing when she learned Lesley failed to show up at her job in the payroll department of a company in Glendale.
Left behind were the woman's car, purse, wallet, keys, cellular telephone and the bracelets she routinely wore, along with $26,000 in her savings account.
Herring quickly became a suspect after also going missing for 2 weeks around the same time Lesley vanished.
He later turned up with his long dreadlocks cut off, with a wild story of how he had gone to Mexico to look for his wife because they were planning a vacation there and ran into some sort of gang who cut off his hair because he owed them money, according to Davis's husband Jesse Pforzheimer.
In 2009, Lyle Herring made a brief appeal to his wife to come home, telling police that the two had argued before she disappeared.
"Please give us a call," he said at the news conference.
"Let us know what's going on. I know we have a lot to talk to about."
In court, the defense argued there was no evidence Lesley Herring was dead, much less murdered.
But prosecutors told jurors that Herring feared his wife was going to leave him and couldn't let that happen.
Jurors convicted Herring of second degree murder.
He faces 15 years to life in prison.
Sentencing is set for June 7.