This is an archived article and the information in the article may be outdated. Please look at the time stamp on the story to see when it was last updated.
A custody assistant was called a hero by Sheriff Jim McDonnell on Tuesday after the young man was credited with saving the lives of 42 people trapped on a burning charter bus on the 60 Freeway in Hacienda Heights.
Jesse Hernandez was on his way to work at the North County Correctional Facility on Sunday when he spotted a large charter bus blocking two lanes on the westbound 60 Freeway, near the Hacienda Boulevard off-ramp, a news release from the Los Angeles County Sheriff's Department stated.
As he got closer, Hernandez saw flames coming from the rear engine compartment of the bus and immediately pulled over to help, according to the release.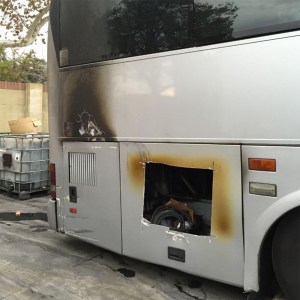 "As he ran towards the bus, Hernandez saw that several passengers were frantically hitting and kicking the exit door, which appeared to be stuck, trapping everyone inside," the release stated.
Hernandez was able to force open the door handle, allowing the 41 passengers and the driver to get out.
Sheriff's officials said Hernandez then entered the smoke-filled bus to make sure no one had been left behind.
Hernandez is also a National Guard reservist and aspires to be a sheriff's deputy.