This is an archived article and the information in the article may be outdated. Please look at the time stamp on the story to see when it was last updated.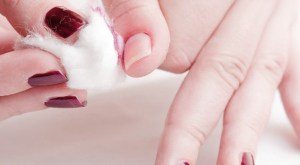 LOS ANGELES (KTLA) — CVS stores in some communities were requiring customers to show a photo ID to buy nail polish remover.
At some CVS stores, sales of the product were restricted to people 18 and older.
There were also restrictions on the number of bottles that could be purchased.
Polish remover contains acetone and iodine; two compounds used to manufacture methamphetamine.
The drug store chain introduced the new rules in the eastern U.S. last month.
CVS/Pharmacy issued a statement indicating the rule was part of a continuing effort to curb the making of illegal methamphetamine.
"Because acetone is an ingredient used in the illegal manufacture of methamphetamine, we recently implemented a policy that a valid ID must be presented to purchase acetone-containing products such as nail polish remover.  Our policy also limits the sale of these products in conjunction with other methamphetamine precursors and is based on various regulations requiring retailers to record sales of acetone."