This is an archived article and the information in the article may be outdated. Please look at the time stamp on the story to see when it was last updated.
After much mocking on social media for its extremely long receipts, CVS/pharmacy recently announced that it would shorten its checkout printouts.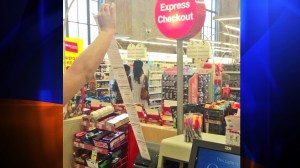 The receipts, part of the drug store chain's reward program for customers with ExtraCare cards, often stretch to several feet long.
Now the company plans to cut that length by 25 percent. It announced the change on its Facebook page on Aug. 23.
"We've gone LONG on savings. And, as you've noticed, our receipts have gotten lengthier too," the company wrote, in part. "Over the past few days we've been listening to you (and we've also seen the very creative uses for your receipts)! You asked for ALL the savings and LESS paper."
On Twitter and other social media sites, the company has been the focus of customers amused by their lengthy receipts, with some posting images of the dangling strips of paper.
Shorter receipts will start printing at the company's more than 7,500 locations in coming weeks, the Facebook post stated. They will include the same number of offers in a smaller space.
In 2014, ExtraCare deals will be sent directly to customers' cards, the company said.