This is an archived article and the information in the article may be outdated. Please look at the time stamp on the story to see when it was last updated.
A 19-year-old motorist who fatally struck a cyclist in Laguna Beach initially fled the scene but was later detained nearby and questioned by police, who did not cite him, authorities said Wednesday.
Emergency dispatchers received 911 calls reporting a crash between a white Toyota Prius and a bicyclist on North Coast Highway at Emerald Bay (map) just before 7 p.m. Tuesday.
The cyclist — identified later as John Greg Colvin, a 55-year-old from Laguna Beach — died less than five hours after being transported from the scene, according to a news release issued Wednesday by the Laguna Beach Police Department.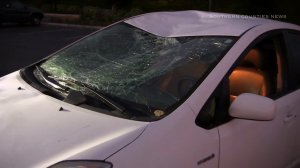 The cyclist and the Prius were both northbound when the vehicle, traveling in the No. 2 lane, hit the cyclist, who was on the right side of the roadway, "for an unknown reason," the release stated.
After the collision, the Prius fled northbound on Coast Highway, police said in the release.
The motorist then stopped in the parking lot of an elementary school about 1 mile away, callers told police, who took him into custody.
The Prius had a smashed windshield and a dented hood, video from the scene showed.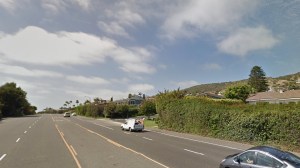 Video from the scene showed Colvin's bicycle in the right shoulder, which ends on the north side of Emerald Bay.
North Coast Highway does not a have a bike lane at Emerald Bay, according to street-view images from Google Maps.
The 19-year-old driver was taken to the Police Department to be interviewed, but he was not arrested or cited. His name was not being released, police said.
The driver was a resident of Laguna Beach, police Sgt. Eric Lee said Tuesday night.
Colvin was taken initially to Hoag Hospital in Newport Beach then was transported to Western Medical Center in Santa Ana, where he died about 11:30 p.m.
The collision remained under investigation.
KTLA's Nidia Becerra Tijerino contributed to this article.