This is an archived article and the information in the article may be outdated. Please look at the time stamp on the story to see when it was last updated.
A bicyclist died after being struck by a sheriff's patrol unit Sunday afternoon in Calabasas, authorities said.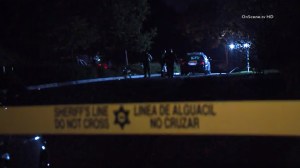 A man was traveling eastbound in the 22000 block of Mulholland Highway about 1:05 p.m. when the bicycle he was riding collided with the patrol unit, which was moving in the same direction, according to Lt. Michael Williams of the Los Angeles County sheriff's Malibu/Lost Hills Station.
The victim was pronounced dead at the scene, Williams said. He was later identified as 65-year-old Milton Everett Olin, Jr., of Los Angeles, according to Los Angeles County coroner's officials.
The driver of the sheriff's vehicle was transported to a hospital and released after suffering minor injuries.
Anyone with information regarding the incident was encouraged to contact the Los Angeles County Sheriff's Department's Lost Hills/Malibu Station at 818-878-1808. Those who wish to remain anonymous may call Crime Stoppers at 800-222-8477.