This is an archived article and the information in the article may be outdated. Please look at the time stamp on the story to see when it was last updated.
A man accused of making prank calls to several well-known current and former sports coaches, including a call to Super Bowl-winning Tony Dungy about a coaching job at USC, has been charged with one felony count of eavesdropping, the L.A. County district attorney's office said Tuesday.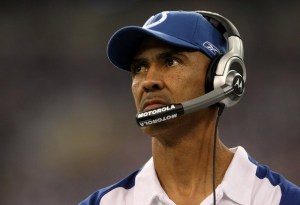 Kenneth Edward Tarr, 32, recorded phone calls in October and November with at least six college and professional coaches without their consent, prosecutors allege. Tarr was arrested at his Hollywood home a week ago and is expected to be arraigned Dec. 30.
He allegedly called NBA, MLB, NFL and college football coaches while pretending to be an official from various teams, gauging the interest of the coaches in possible coaching openings.
The prank calls drew attention in October when Dungy, an NBC broadcaster who won the Super Bowl as coach of the NFL's Indianapolis Colts, said on a radio show that he had been contacted by USC about its head coaching vacancy.
Click here to read the full story at LATimes.com.