This is an archived article and the information in the article may be outdated. Please look at the time stamp on the story to see when it was last updated.
Actor Danny Trejo was among those who spoke out at a community meeting Wednesday night that was held days after a caught-on-video lunchtime brawl that involved dozens of students at Sylmar High School.
Trejo, a San Fernando resident, confronted school officials at the charged meeting, accusing them of not listening to students.
"You are so wrapped up in whatever you do, that you're not listening to them," the "Machete" star said as students, parents and guardians erupted in cheers.
The actor pointed at the crowd and told the administrators they would come up with a solution.
"I'm so fed up — I'm sorry … I know you guys are doing such a good job. But you know what? You've got your heads in the sand," he continued. "You have a black – brown situation … you either got to let everybody go or arrest a couple of people."
He then thanked them for listening, and walked back to his seat as the boisterous crowd against burst into applause.
Trejo's remarks came two days after the melee at the high school's campus, which is located at 13050 Borden Ave.
It's not clear what prompted the massive fight, but one student told KTLA it may have been tied to an attack related to prom that occurred over the weekend.
A number of community members and students attended the meeting that was held to address gang and racial concerns stemming from the fracas, the Los Angeles Times reported.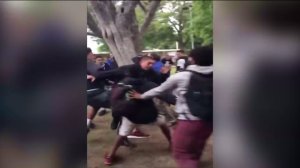 Students expressed safety concerns, with some saying they weren't attending classes even with additional school police officers placed around campus.
"This is not OK. I mean, I couldn't even come to school today. I couldn't come to school yesterday. I'm missing out on learning and that's not cool," one student said at the meeting.
Another student, Shane Bennett, told the Times that many walk around campus in groups now because they didn't feel safe.
Taking the microphone a second time, Trejo urged school officials to take action.
"We have kids that aren't safe. We have an agency, community and school that works just with that," he said. "I think that you should get in touch with them, so that they can come on this campus and help you with that directly with kids that are afraid to walk around."
On Thursday, a number of students walked out of their classes around 9:15 a.m. and appeared to hold a demonstration at the school's athletic field, Sky5 video showed.
Some were holding signs, including banners that read "SHS United," according to the footage.
"As you can see, we're all different colors, but we're family," said student Sebastian Cooks. "Sylmar as a whole, a unit. We're all family."
Darnae Lynch, who also attends Sylmar High, added: "It's not like, 'Oh, OK, black over here hanging out at lunch and Hispanics over here.' No. We all come together. We all have fun."
Monday's incident remained under investigation, with school principal James Lee telling KTLA earlier this week that students involved were being disciplined.