This is an archived article and the information in the article may be outdated. Please look at the time stamp on the story to see when it was last updated.
A Corona couple is raising money for a potentially life-changing surgery for their nearly 3-year-old daughter, who has cerebral palsy and has never been able to walk.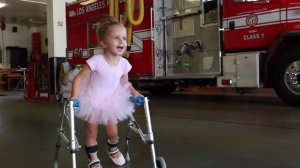 They're hoping to raise awareness of her disorder with a dance challenge — and the Los Angeles Fire Department was ready with an initial response that was posted online Monday.
Firefighters with the department's North Hollywood station got down to Meghan Trainor's "Better When I'm Dancin'" to bring attention to the plight of Finley Smallwood.
She was born to her biological mother at 31 weeks and had brain bleeding, her adoptive mother Christina Smallwood said.
"She was gorgeous," she said. "The news was devastating, but we knew we were going to love her and promise her the world."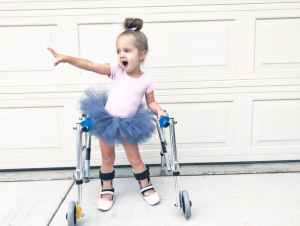 Her parents learned she might never walk, but they began having in-home therapy for their daughter. At 16 months, shortly after she was formally adopted, Finley was diagnosed with spastic diplegic cerebral palsy.
She's in physical therapy and can use a walker.
But recently the Smallwoods learned that Finley was a good candidate for surgery at a hospital in St. Louis. They say the surgery — known as Selective Dorsal Rhizotomy — is best performed at the age of 3, which Finley turns in July.
"We could not be more in love with her, and we want her to have every opportunity there is," Finley's mom said in a video she created to tell the family's backstory.
On a YouCaring page, she and her husband area raising $60,000 to fund the surgery. Christina Smallwood's friends wanted to help with the fundraising, so they came up with the idea for the dance challenge.
They were inspired by seeing Finley dance to Trainor's song. So they challenged others to create videos of them dancing to the same tune — in Finley's honor.
The website doyoudaretodance.com is chronicling those responses. The whole effort started Monday with the introduction of the LAFD video.
"All we ask is that people just dance for Finley," Christina Smallwood said.
KTLA's Courtney Friel, who covered the Smallwoods' campaign, created her own response to the "Dare to Dance" challenge, bringing her fellow anchors, reporters and station staff into the effort.
Friel challenges Los Angeles Mayor Eric Garcetti and L.A. Police Department Chief Charlie Beck to dance for Finley next.