This is an archived article and the information in the article may be outdated. Please look at the time stamp on the story to see when it was last updated.
The daughter of Inglewood Mayor James Butts was arrested Wednesday on suspicion of conspiring with a friend to attack her landlord, who officials said was assaulted with a metal bat.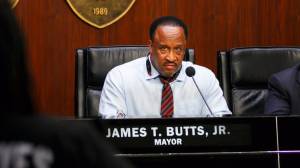 Ashley Melissa Butts, 30, allegedly had disputes with her new landlord shortly after moving into his home in the 3300 block of West 78th Street in the Hyde Park neighborhood of South Los Angeles, the Los Angeles County District Attorney's Office stated in a news release.
Butts, identified as the daughter of mayor James Butts by the Los Angeles Times, allegedly arranged for an Uber driver to bring 37-year-old Israel Rios and another person to the home on 78th Street to attack the landlord on April 30.
After knocking on the door, Rios started to beat the landlord with a metal bat and then either Rios or the second attacker shot at the victim, according to the news release.
The landlord suffered cuts and bruises to his head during the attack but was not struck by the gunfire, the Times reported.
Investigators found Butts and Rios had exchanged text messages shortly before Rios knocked on the door, the District Attorney's Office stated.
Butts and Rios were charged with one felony count each of assault by means likely to produce great bodily injury, conspiracy to commit assault and first-degree burglary with a person present.
If convicted, Butts was facing up to seven years in state prison, according to the District Attorney's Office.
Rios was facing up to 22 years in state prison.
Mayor Butts has garnered national attention in recent months for his role in convincing Rams owner Stan Kroenke to move the NFL franchise back to Los Angeles, and ultimately into a new stadium in Inglewood.