This is an archived article and the information in the article may be outdated. Please look at the time stamp on the story to see when it was last updated.
Homicide detectives were investigating the death of a 5-month-old boy whose body was found Monday inside an SUV parked outside a home in Carson.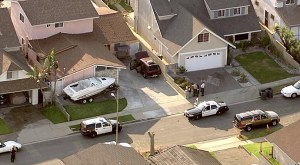 Authorities were called to the home in the 19000 block of Cliveden Avenue around 3:20 p.m., according to Sgt. Peña of the L.A. County Sheriff's Department.
Investigators said the boy's father drove home with the child in the SUV.  He reportedly left the boy inside the vehicle while he went inside the house.
Some time later, the father left the home again, but took a different vehicle, investigators said.  No one else was home at the time.
When the father realized what had happened, he called authorities.
"The parents initially realized that the child may have been left in the vehicle, called Carson station, and deputies responded," said Lt. Dave Coleman,
L.A. County Sheriff's Department.
Deputies found the boy strapped in his car seat in the back of his SUV.  Paramedics worked to resuscitate him, but it was too late.  He was pronounced dead at the scene.
It was not clear how long the boy was in the vehicle.
The mother and father were being questioned, according to detectives.  No charges had been filed.