This is an archived article and the information in the article may be outdated. Please look at the time stamp on the story to see when it was last updated.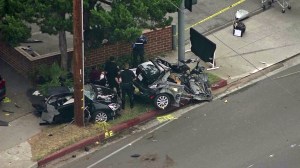 One person was killed after apparently losing control of his car and crashing into a pole in Pasadena Monday morning.
The crash occurred at about 2:45 a.m. in the 1300 block of East Del Mar Boulevard between South Hill Avenue and South Holliston Avenue (map), according to Sgt. Art Chute with the Pasadena Police Department.
The driver, identified as 28-year-old Israel Adam Galio, died at the scene after apparently colliding with a pole, Chute said.
The impact of the crash was so severe, the car had been cut in two, aerial video from Sky 5 showed.
No other vehicles were involved in the crash, according to Chute.
A portion of East Del Mar Boulevard had to be closed while authorities investigated the cause of the crash.
Advisory: Please avoid Del Mar Blvd. between Hill Ave. and Holliston Ave. in Pasadena. Fatal traffic collision investigation taking place

— Chief Phillip L Sanchez (ret) (@PPDChiefSanchez) June 23, 2014
East Del Mar Boulevard was reopened to through traffic just before 10 a.m., according to a news release from the Police Department.