This is an archived article and the information in the article may be outdated. Please look at the time stamp on the story to see when it was last updated.
At least one person was killed in a crash involving eight vehicles at an intersection in Fullerton on Thursday, police said.
The crash occurred 4:10 p.m. at the intersection of North Harbor Boulevard and Valencia Mesa Drive directly in front of St. Jude Medical Center.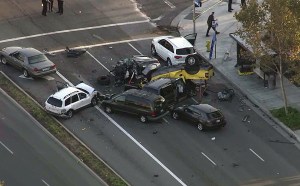 Witnesses said a yellow Ford F-150 pickup truck was traveling north on Harbor Boulevard at a high rate of speed when it crossed the road into oncoming traffic, according to Fullerton police Sgt. Jeff Stuart.
Todd Dowgialo was working across the street and was one of the first at the crash scene.
"We heard what sounded like a huge explosion," witness Todd Dowgialo said. "We looked out the window and I immediately ran out the door here and you could still see the smoke."
The man driving the truck was pronounced dead at the scene, Stuart said.  He had not been identified Thursday.
Five other people were transported to area hospital with a variety of injuries.