This is an archived article and the information in the article may be outdated. Please look at the time stamp on the story to see when it was last updated.
Authorities were investigating a possible double shooting on the 91 Freeway in Anaheim on Monday night.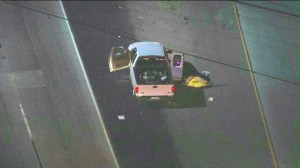 Aerial video of the scene showed what appeared to be one of the victims lying next to a white pick-up truck. He had been covered by a yellow sheet.
A second victim was transported to the hospital in unknown condition, according to Anaheim Fire officials.
The call came in at 8:06 p.m. regarding an incident at the 91 Freeway near the 57 Freeway, fire officials said.
Both shooting victims were male, according to Sgt. Bob Dunn with the Anaheim Police Department.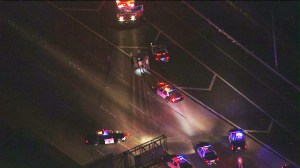 The shooting could have occurred anywhere between Tustin Avenue and the 91 and 57 Freeway split where the car stopped, Dunn said.
Dozens of police and California Highway Patrol officers were conducting a grid search of the freeway, forcing the closure of the west bound lanes at Kraemer Boulevard.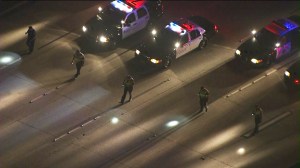 The closure left traffic backed up for several miles. There was no immediate word on when all the lanes would be reopened.
No other information was released.
Shooting/Homicide investigation 91/57 fwy. Fwy closed w/b from 55 fwy. Witness call 855-TIP-OCCS. #APDPIO

— Anaheim PD (@AnaheimPD) July 15, 2014
Anyone with information was urged to call Orange County Crime stoppers at 855-TIP-OCCS.