This is an archived article and the information in the article may be outdated. Please look at the time stamp on the story to see when it was last updated.
Homicide detectives were investigating the death of a 2-year-old boy in Signal Hills on Sunday, according to a news release from the Los Angeles County Sheriff's Department.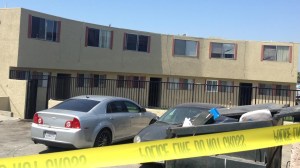 Officers from the Signal Hill Police Department initially responded to an apartment in the 2300 block of Lewis Avenue (map) around 5:45 a.m. after receiving a call regarding a "baby not breathing."
CPR was administered to the toddler by officers and L.A. County Fire Department personnel, who arrived at the scene a short time later.  The child was then taken to a local hospital, where he was pronounced dead a short time later, according to the release.
Neighbor George Head said he noticed something unusual about the baby when he saw him the day before, but never imaged the toddler would be dead the next day.
"The eyes were just too dark," Head said. "I heard the police came here the other day about the baby too, but I didn't know."
The cause of death has not yet been determined, and authorities have only classified it as a "death investigation."
The toddler lived with his mother, her boyfriend and other family members, who were all cooperating with the investigation, sheriff's Lt. Steve Jauch said.
No further information was available.
KTLA's Dave Mecham and Tracy Bloom contributed to this report.