This is an archived article and the information in the article may be outdated. Please look at the time stamp on the story to see when it was last updated.
The number of Californians under 65 who've died of the flu has jumped to 42, compared with nine at the same time last year, state officials said Friday.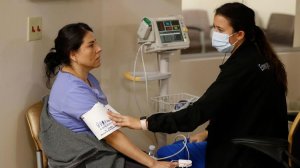 The flu season, which runs from October through May, typically peaks in February. Public health officials say they don't yet know whether the flu season is peaking earlier than normal, or if this year will be a particularly tough one for the flu.
"We are still early in the season but … the number of deaths so far is significantly higher than at the same time in the previous several influenza seasons," said Dr. James Watt, chief of the division of communicable disease control with the California Department of Public Health, in a press call with reporters this week.
Thousands of people in California started showing up at doctors' offices and hospitals in December with the flu. Since then, emergency rooms have been crowded with long wait times, and patients have struggled to get doctor appointments as well as flu medications.
Read the full story on LAtimes.com.