This is an archived article and the information in the article may be outdated. Please look at the time stamp on the story to see when it was last updated.
Thousands of people gathered at a vigil at the Santa Barbara County Courthouse on Sunday, hours after officials announced that the death toll of the Montecito mudslides reached 20.
The latest victim was identified as 30-year-old Pinit Sutthithepa. He was found in the area of Hot Springs Road near Olive Mill Road, the Santa Barbara County Sheriff's Office said.
His 6-year-old son, Peerawat, and his 79-year-old father-in-law, Richard Loring Taylor, were also among the dead, officials said. His 2-year-old daughter, Lydia, was still missing.
Pinit is survived by his wife and mother, according to a GoFundMe page started by Mike Caldwell, who identified himself as the victim's supervisor at a Santa Barbara car dealership.
Pinit's wife and mother were at work at a Vons when the tragedy happened, the webpage said.
"This family has lost everything but the clothes they were wearing," Caldwell wrote. "Clothing, food, shelter and comfort has been provided by the families' employers, friends and teachers…But this family needs significant funding to move forward with their lives."
As of Sunday evening, more than $111,000 has been donated through the page.
In addition to Lydia Sutthithepa, authorities named three other people who remained unaccounted for: John "Jack" Cantin, 17; Faviola Benitez Calderon, 28; and John "Jack" Keating, 53.
As of Sunday morning, officials said they were working on the incident as a search-and-recovery effort, and no longer a search-and-rescue mission.
"We'll heal," resident Cynthia Snyder told KTLA during Sunday's vigil. "We'll get back together and heal again."
Authorities discovered the body of Morgan Corey, 25, Saturday morning in mud and debris. Her 12-year-old sister, Sawyer, had also died in the mudslides, according to the Santa Barbara County Sheriff's Office.
"The Sheriff's Office wants to express our heartfelt sadness to the families and friends of those who lost their loved ones," authorities said in a news release.
Torrential rain on Jan. 9 brought debris left behind in the wake of the Thomas Fire tumbling down hillsides and onto homes.
The deadly mudslides have also caused 28 injuries and destroyed 65 single-family homes. Nearly 500 homes were damaged and at one point, 3,000 homes were threatened.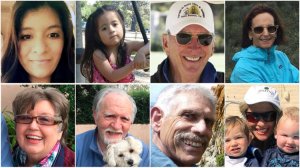 The 101 Freeway in the Santa Barbara County city remained closed indefinitely as crews work to clean up layers of mud along the roadway.
Los Angeles Fire Department Capt. Tom Henzgen said firefighters and other rescue workers were breaking down trees in order to do a thorough search of the 30-square-mile  area, looking for any possible victims buried underneath.
"Of all the different disasters I've been to with regards to water, this is probably the most destructive I've seen in my career," the captain told KTLA.