This is an archived article and the information in the article may be outdated. Please look at the time stamp on the story to see when it was last updated.
Authorities discovered the body of a 25-year-old woman in Montecito Saturday morning, bringing the death toll of this week's mudslides to 19, according to Santa Barbara County officials.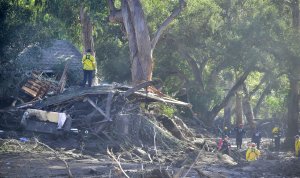 Five people remained missing since heavy rains triggered mudflows early Tuesday, Sheriff Bill Brown announced in a news conference.
Officials found the remains of Morgan Corey in mud and debris around 9 a.m. Saturday, Brown said.
The victim's 12-year-old sister, Sawyer, had also died in the mudslides, according to the sheriff.
The Thomas Fire, the largest wildfire recorded in California history, scorched through vegetation in the area and increased the risk of devastating mudslides. The blaze reached full containment Friday, a month after it started burning hillsides and homes in Ventura and Santa Barbara counties.
Santa Barbara County officials issued mandatory evacuations for about 7,000 people before heavy rains sent rivers of mud flowing from the hills into Montecito on Tuesday. Most of the homes destroyed, however, were not in a mandatory evacuation zone.
The Santa Barbara County Sheriff's Office said that as of 8 p.m. Saturday, authorities were still searching for the following individuals:
• John "Jack" Cantin, 17
• Faviola Benitez Calderon, 28
• Pinit Sutthithepa, 30
• Lydia Sutthithepa, 2
• John "Jack" Keating, 53