This is an archived article and the information in the article may be outdated. Please look at the time stamp on the story to see when it was last updated.
The day after an elderly couple were found dead inside their Apple Valley home, a homicide investigation was underway on Tuesday, authorities announced.
The deaths of Rose Giuntini, 92, and Louis Giuntini, 95, had initially been deemed to be suspicious by investigators, according a news release from the San Bernardino County Sheriff's Department.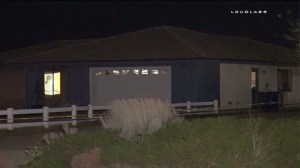 The discovery was reported Monday at about 4:17 p.m. after a family friend went to the home in the 19900 block of State Highway 18 to check on the couples welfare and found their bodies, according to sheriff's Public Information Officer Jodi Miller.
"Deputies upon arriving on the scene confirmed that there were two elderly subjects inside the residence deceased," a sergeant at the scene said.
The couple's deaths were deemed "suspicious in nature," according to the sergeant, who declined to elaborate.
Detectives from the Sheriff's Department's Specialized Investigation Division were called in to conduct the investigation, Miller said.
The cause of death was expected to be determined by autopsies.
Anyone with information about the case was asked to call Detective Ryan Smith or Sgt. Jason Radeleff at 909-387-3589. Anonymous tips may be submitted by calling 800-782-7463 or by visiting www.wetip.com.