This is an archived article and the information in the article may be outdated. Please look at the time stamp on the story to see when it was last updated.
The biggest full moon of the year will also shine the brightest this weekend when the first — and only — visible supermoon of 2017 rises Sunday night.
As in 2016, December's full "cold moon" will again be a supermoon, though this time it will not coincide with the annual Geminid meteor shower.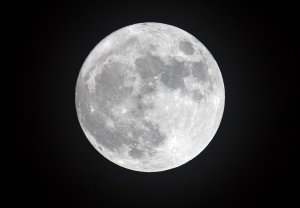 A supermoon happens when a full moon is at or near its perigee, the point in the moon's orbit when it is closest to Earth.  During an occurrence, the full moon generally appears up to 14 percent bigger and 30 percent brighter than an apogee full moon.
On Sunday, the moon will become full about 7:47 a.m. and reach perigee early the next day, at 12:45 a.m., Space.com reported.
The best time to view it, according to National Geographic, will be when the full moon rises shortly after sunset. For Los Angeles, that should happen around 5:17 p.m., according to Timeanddate.com.
But don't expect this event to be the same spectacle as the "extra-super" supermoon of Nov. 2016, which was the "closest" full moon to date of the 21st century, in addition to being the largest in nearly 70 years.
The next time a full moon will appear that close: Nov. 25, 2034.
Stargazers who missed the Dec. 3 supermoon will have two more opportunities in January and February to see the bright lunar phenomenon, according to NASA.
CNN contributed to this story.