This is an archived article and the information in the article may be outdated. Please look at the time stamp on the story to see when it was last updated.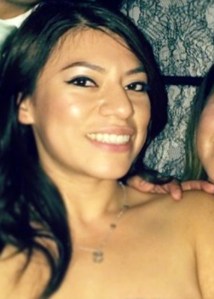 A decomposed body recovered Tuesday off the Ortega Highway near Mission Viejo has been tentatively identified as that of missing Laguna Hills woman Erica Alonso, according to Lt. Jeff Hallock of the Orange County Sheriff's Department.
A group of biologists working for Caltrans made the discovery late Monday night in the Cleveland National Forest about 12 miles east of the 5 Freeway (map) and one mile east of the San Juan Fire/Ranger Station, according Hallock.
Crews waited until Tuesday to recover the body because the terrain was very rugged and steep, Hallock said.
While the remains were preliminarily identified as the 27-year-old missing woman, confirmation was still pending fingerprint and/or dental record comparison, according to a new release from the OCSD.
But sheriff's officials said they felt comfortable making the identification.
"There were some tattoos that we were able to make comparisons with," Hallock said.
An autopsy was scheduled for Wednesday to determine cause and manner of death, the release stated.
Capt. Steve Concialdi of the Orange County Fire Authority said the person may have been the victim of a crime.
Isaac Alonso, whose daughter Erica Alonso has been missing since Valentine's Day weekend, went to the location earlier Tuesday in hopes of getting more information.
"I wanted to go down there and see the body … because I know that I can recognize my daughter. But they didn't let me, they just told me it was a female body," Alonso said.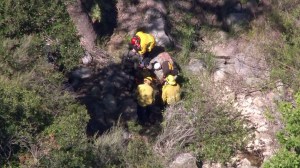 At the time, Isaac Alonzo said he was trying to remain hopeful that the body was not his daughter.
"I want to keep the faith that it's not Erica because we want her alive," he said.
As his voice broke with emotion, Issac Alonzo described his daughter as "an amazing person."
"We don't want to lose her," he said.
Erica Alonso disappeared after leaving her boyfriend's house in the city of Irvine on the morning of Feb. 15 after a night out celebrating Valentine's Day.
Earlier in the night, Alonso and her boyfriend had been at the Sutra Lounge in Costa Mesa.
The couple arrived at the club either by taxi or Uber earlier in the evening, Lt. Jeff Hallock of the Orange County Sheriff's Department stated at the news conference.
At some point in the night, Alonso befriended another couple and convinced them to give her and her boyfriend a ride home, Hallock said.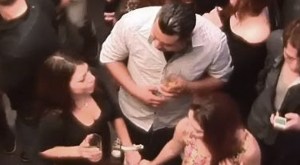 The foursome left the club about 1:30 a.m. and drove to Alonso's boyfriend's apartment in Irvine near Culver Drive and Deerfield Avenue, according to a news release from the Orange County Sheriff's Department.
The couple stayed at the apartment until about 3:45 a.m., but left after Alonso and her boyfriend got into an argument, Hallock said.
About 10 to 15 minutes later, Alonso also left the apartment and was not heard from again, the news release stated.
Two days later, family members contacted authorities when Alonso failed to show up for work.
Alonso was believed to have driven from her boyfriend's home in her 2014 Honda Civic, which was located about one mile away from her home in Aliso Viejo on March 25.
After being told the young woman's body had been found, her family thanked the public for their support during the weeks of searching.
"On behalf of the family, we want to thank everybody who has helped us look for Erica," said brother Isaac Alonso.
Her heartbroken father remained confident that investigators would find out what happened to his beloved daughter.
"They made me feel that I can trust them that they're going to find the one who did it," he said.
But nothing will ever replace seeing Erica's smile and the feel of her arms around him, her grieving father told KTLA.
"When she arrived home, she would have that beautiful smile on her and say, 'hey dad, how are you doing,'" father Isaac Alonso said.
KTLA's Jennifer Thang contributed to this report. 
More video: