This is an archived article and the information in the article may be outdated. Please look at the time stamp on the story to see when it was last updated.
Wildlife officials Saturday tranquilized a deer after it went for a swim in a pool at a home in Encino, officials said.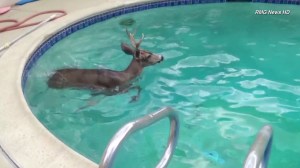 The incident began about 3:15 p.m. in the 6000 block of Babbitt Avenue (map), where the buck ran across several properties, residents said.
"It whizzed by me, into my back yard," said Don Rubin. "I tried to corral him, but I could see that the animal was quite nervous."
The deer later jumped a 7-foot fence and ended up behind Eric Munn's house. Its antlers became tangled in the pool's cover, "so we kind of walked around and pulled [it] off," said neighbor David Ellis. "He was tired. He was really tired."
News video showed the deer swimming in the pool as Munn called 911. A Los Angeles Department of Animal Services officer was dispatched to the scene.
The injured buck briefly struggled at the edge of the pool before managing to climb out.
After arriving at the scene, the Animal Services officer said he was prohibited from euthanizing the deer because the laceration on its leg was not life-threatening.
The buck then ran off, and was later tranquilized and captured in a nearby garden by California Department of Fish and Wildlife officers. They planned to release the deer back into the wild after treating its injury.
"I'm glad the animal's OK," Munn said. "I feel a bit sad that it's going to be hunting season in four days."