This is an archived article and the information in the article may be outdated. Please look at the time stamp on the story to see when it was last updated.
A delivery man was recovering from multiple gunshot wounds Tuesday after a violent robbery overnight, according to the Los Angeles County Sheriff's Department.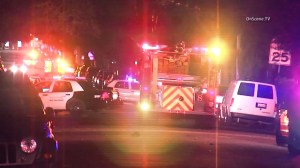 The man was attacked around 1 a.m. in the 1000 block of North Kings Road, Lt. Cohen said.
During the incident the man was shot multiple times and robbed of several items, including a machine that swipes credit cards.
"This poor guy was just delivering food," said Al Rantal, who lives in a nearby apartment and heard four gunshots.
The man was transported to a local hospital and was expected to survive, Cohen said.
It was not known if he was targeted or if the attack was random, and an investigation was underway.
Investigators were searching for two men who fled the area in a silver four-door sedan, Cohen said.
On Sunday, in the nearby Hollywood Hills area, 27-year-old Henry Estrada was shot and killed.
The gunman in that shooting was also said to be driving a silver sedan, however, authorities have not confirmed if the shootings are related.
A 2014 report by the Sheriff's Department revealed a surge in crimes such as car thefts, robberies and burglaries in the area.
"It's been on a steady decline, the neighborhood here," Rantal said.
KTLA's Alberto Mendez contributed to this report.