This is an archived article and the information in the article may be outdated. Please look at the time stamp on the story to see when it was last updated.
A Delta flight flying from Los Angeles International Airport to Minneapolis faced mechanical issues Tuesday morning, forcing the pilot to make an emergency landing, according to an LAX spokeswoman.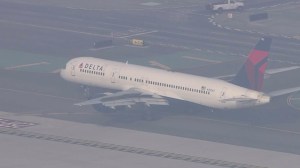 Delta flight 2116 departed from LAX at 8:39 a.m., spokeswoman Amanda Parsons said.
The flight was a Boeing 757 that experienced "a problem" after departure, Federal Aviation Administration spokesman Ian Gregor said.
According to the Boeing website, over 200 passengers could be carried on the medium-sized aircraft.
The pilots did not immediately land the plane because they were "holding to burn fuel" before returning to LAX, Gregor said.
Sky5 aerial footage of the scene showed the aircraft landed safely around 9:35 a.m.
One passenger on board the Delta flight said the plane began rocking back and forth almost immediately after taking off from LAX.
"It was almost like we were on the water, on a boat," Nathan Smith told KTLA. "The higher we got, it kind of got worse."
He added that everyone on board was unnerved, and that a couple of people around him were in tears.
After the landing, Delta issued the following statement:
"The crew of Delta flight 2116 from Los Angeles to Minneapolis/St. Paul followed procedures to return to Los Angeles International after a potential systems issue was observed.  The aircraft landed safely without incident and taxied to the gate under its own power. Delta is currently working reaccommodate customers while technicians examine the aircraft. Safety is always Delta's top priority and apologizes to customers for the inconvenience."
More Video: