This is an archived article and the information in the article may be outdated. Please look at the time stamp on the story to see when it was last updated.
Five people were arrested Friday as dozens of demonstrators gathered again near a U.S. Border Patrol facility in Murrieta in anticipation of the arrival of another group of undocumented immigrants.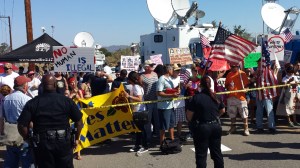 The demonstration was taking place at the end of a week that started with Murrieta Mayor Alan Long announcing that the city could receive about 140 immigrants every 72 hours for several weeks, many of them mothers, fathers and children who were coming to the U.S. from Central America.
The first group arrived by three buses at the federal facility on Tuesday, but they were blocked from entering by throngs of angry protesters.
After being turned away, the buses returned to San Diego County where the immigrants were taken to seven separate facilities, Gabe Pacheco, a union representative for Border Patrol agents. told  KTLA sister-station Fox 5 San Diego on Wednesday.
Pacheco added that none of the migrants were taken back to Murrieta.
Some residents called Tuesday's scene shameful. "Someone has to speak for social justice for peace, love, whether we have the money or not," said Paula Heady of Lake Elsinore.
A news release sent out by city officials on Monday stated that Long and the Riverside County city objected to the immigrants' transfer.
"This is a failure to enforce federal law at the federal level," Long said in the release.
But after Tuesday's event, Murrieta City Manager Rick Dudley sent out another message to the community, saying Long's original comments had been misinterpreted.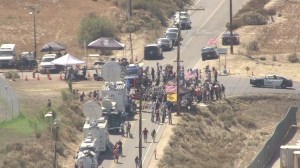 "We understand that people want to come to the U.S. to seek a better life for their families, and we are a compassionate people who want to help," Dudley said in the message. "But we also are a country whose legal system is based on the rule of law, and the people migrating must do so within the boundaries of the law. The protests resulting from the incorrect interpretations of Mayor Long's comments have given our community a black eye.
Dudley also called what occurred on Tuesday a failure for the city.
"This was not victory. It was a loss for the city of Murrieta, for the community that we live in and love. It made this extremely compassionate community look heartless and uncaring," he said.
Tensions were high on Friday, as people representing both sides of the issue were present outside the facility.
"I think it demonstrated the amount of hate that people can be divisive over one particular thing that has many arms," Abraham Camacho, an immigration supporter said of Tuesday's event.
He added, "And on the day of independence, we demonstrate that the people who have this so-called independence can show compassion to one another."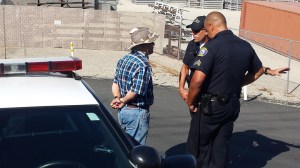 Others at the scene said they were protesting to send a clear message.
"Why? Because eventually, enough buses get turned away, worldwide attention – they're going to get it down in Central America," said Greg Allison, a Murrieta resident. "They're going to the story, 'Oh, it's not working, stop sending your kids up to America because they're being turned away."
Two of the arrestees were taken into custody on suspicion of battery, said Capt. Dennis Vrooman of the Murrieta Police Department. "We also have one female arrest for battery on an officer," he said.
The other two arrests involved a man who allegedly interfered with an officer, and another woman who is accused of pushing a camera into a man's face, police said.
At least one man was handcuffed at the scene and was talking to authorities, video from the scene showed.
It was not immediately clear whether any immigrants would be transferred to the facility on Friday, as Immigration Customers and Enforcement have not revealed its plans since what transpired on Tuesday.