This is an archived article and the information in the article may be outdated. Please look at the time stamp on the story to see when it was last updated.
A crowd of ardent demonstrators rallied in South Los Angeles and outside Mayor Eric Garcetti's Hancock Park home Sunday after a Los Angeles police officer fatally shot an 18-year-old man following a possible stolen vehicle pursuit.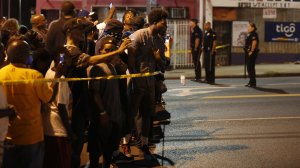 Carnell Snell Jr. was shot in South L.A. after fleeing on foot during the car chase, while the driver and another suspect who fled on foot are at large, according to the Los Angeles Police Department. Officers said they tried to perform a traffic stop after noticing the vehicle had paper plates.
When the car finally came to a halt, two men fled on foot in different directions, the LAPD said in a statement. Two officers chased one of the suspects, following him to the rear of a nearby residence.
Witnesses say Snell was struck by bullets four to five times in the back while running away with his hands in the air. He was declared dead at the scene of the shooting — the back of a residence where the chase ended.
Crowds gathered near the scene of the shooting and remained there into the evening, but the demonstrations were peaceful. Police monitoring the protest initially wore riot gear, but removed it later.
Social media indicated that demonstrators planned to return to Garcetti's house for a rally Sunday, but by afternoon a protest had yet to materialize. But signs of unrest lingered into the day, including yellow stains on the mayor's residence left by eggs that had been thrown at it.
LAPD did not release many details about the circumstances of the shooting, which is under investigation, but did say a gun was recovered at the scene. They have also not released the name of the officer who shot Snell at 107th Street and Western Avenue, less than two blocks from where the foot pursuit began.
Snell's mother, Monique Morgan, was visibly distraught as she told reporters her son was shot five times.
"My daughter got a phone call," she said as she wept. "It said that the police shot him."
As with any officer-involved shooting, LAPD's Force Investigation Division will investigate and present its findings to Police Chief Charlie Beck. The chief, along with the LAPD board of commissioners, will determine whether the officer complied with the department procedures.
The Los Angeles District Attorney's Office also plans to review evidence collected during the investigation.
The incident comes in the wake of a recent police shooting of a black man in El Cajon and the death of a mentally ill black man in Pasadena following an altercation with police.