This is an archived article and the information in the article may be outdated. Please look at the time stamp on the story to see when it was last updated.
Donte Lamont Jordan, 39, was killed on Nov. 10, 2013, in an officer-involved shooting that occurred in the 500 block of West Anaheim Street in Long Beach (map).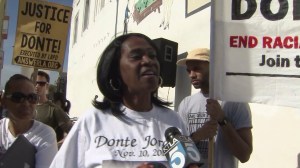 That fact is not in dispute.
In a statement released the day after the shooting, the Long Beach Police Department said a handgun was recovered at the scene and described Jordan as a "gang member with an extensive arrest record."
Pamela Field, Jordan's mother, insists her son was unarmed when he was fatally shot. She and several other demonstrators held a rally Saturday at the scene of the incident.
They held signs that said: "L.B.P.D. MOTTO: 'SHOOT FIRST, LIE LATER." One protester chanted over a PA system: "Justice for Donte!"
"Who was the madman with the gun? Was it my son or was it the police?" Field asked. She said she has filed a federal civil-rights lawsuit against the city of Long Beach.
Officers responded about 6 p.m. Nov. 10 to the intersection of Anaheim Street and Magnolia Avenue (map), where several witnesses had reported a man firing a gun, police Sgt. Aaron Eaton said on the night of the incident.
The officers arrived to find a man matching the suspect's description, according to police.
When they "confronted that suspect, an officer-involved shooting occurred," Eaton said.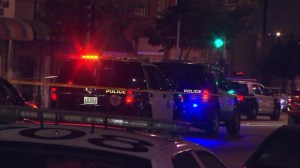 The officers rendered medical aid to Jordan before he was transported to a hospital, where he was later pronounced dead, authorities said.
Jordan died of multiple gunshot wounds, according to a coroner's report released two months after the shooting.
Detectives learned that Jordan had "fired multiple rounds at the driver of a dark-colored vehicle" at a nearby gas station, according to the police statement released on Nov. 11.
Officers later located the victim of that shooting and his vehicle.
"The driver could not provide a motive for the attack and did not know the suspect," the statement said. "He was not injured. However, his vehicle was struck multiple times by the suspect's gunfire."
The Police Department has not disclosed how many officers were involved in the shooting of Jordan, nor how many shots were fired at him. A final report on the investigation has not been released.
A police spokesperson on Saturday declined to comment on the matter, and referred questions to the Long Beach city attorney's office.