This is an archived article and the information in the article may be outdated. Please look at the time stamp on the story to see when it was last updated.
Dense local fog and a powerful East Coast storm have caused several flight delays and diversions at Los Angeles International Airport Thursday morning.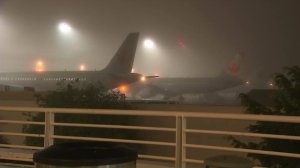 Some flights headed to LAX were diverted to Ontario Thursday due to the fog creating unsafe conditions in Los Angeles.
Other flights were delayed leaving LAX Thursday morning.
Click here for more LAX flight information.
A large snowstorm headed to the east coast is also impacting thousands of flights.
Airlines have canceled more than 2,700 flights ahead of the storm, which is expected to dump a foot of snow and bring blizzard conditions in some areas Thursday, CNN reported.
New York, Boston and Philadelphia have closed their public schools for the day.
As for Los Angeles, the morning fog is expected to give way to partly cloudy skies and comfortable temperatures by afternoon.