This is an archived article and the information in the article may be outdated. Please look at the time stamp on the story to see when it was last updated.
An iconic sea otter who made headlines for her remarkable recovery after she survived an oiling in Monterey Bay six years ago was killed by a shark, the California Department of Fish and Wildlife announced Thursday.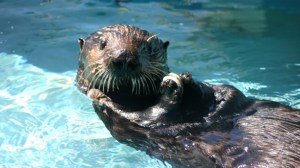 The body of "Olive the Oiled Otter" was discovered by a beachgoer near Sunset State Beach in the Santa Cruz area on Sunday, the department stated on Facebook.
An examination found a large tooth fragment from a white shark in one of the bite wounds, according to the post. Her wounds showed no signs of healing, and it was believed she died quickly after the bite.
Shark bites are the leading cause of death of southern sea otters, according to the department, which noted it has seen an "alarming" increase of them over the past five years.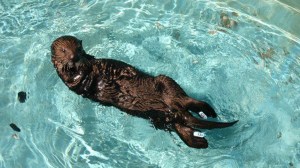 "Although we are extremely saddened by the death of Olive, we are grateful for the opportunity we had to learn from and about her. Olive's success in the wild after being oiled demonstrated the value of washing and rehabilitating oiled wildlife," the Facebook post stated.
Olive was believed to be about a year-old when she was found covered in oil from a natural seep off the coast, according to state wildlife officials. She was washed, rehabilitated and given tags so researchers could track her recovery.
Olive subsequently gave birth to three pups, making "a great contribution to the southern sea otter population, which is listed as Threatened under the Endangered Species Act," according to the department.
She had developed quite a following over with the years, with a Facebook devoted solely to the sea otter garnering more than 5,000 likes.
Though officials believed they spotted Olive on March 13, the last confirmed sighting of the approximately 7-year-old marine mammal was on Feb. 13.