This is an archived article and the information in the article may be outdated. Please look at the time stamp on the story to see when it was last updated.
A man was arrested Wednesday after deputies saw him urinating in a planter and found him to be in possession of a cache of weapons at a Gold Line station in Pasadena.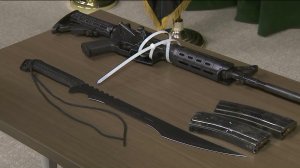 Twenty-eight-year-old Christopher Goodine, of Union City, Georgia, was taken into custody after two Los Angeles County Sheriff's deputies noticed him urinating in a planter at the Sierra Madre Gold Line Station in Pasadena at about 9:20 a.m. He originally gave deputies a false name, but then he said his identification card was in his duffle bag.
The deputies placed Goodine into a patrol car and searched his bag.  Inside they found a loaded AR-15 rifle, two loaded 30-round magazines, a loaded .40-caliber handgun with extended magazines, a machete-type knife, a rope, several rounds of live ammunition and a notebook with "unidentified writings," Sheriff Jim McDonnell said at an afternoon press conference.
A preliminary investigation did not show any intelligence to indicate terrorism, but officials said it was too early to determine what Goodine's plans included.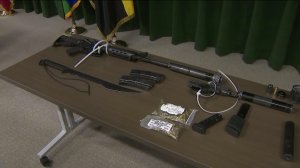 "When you have someone walking around with this type of weaponry, this much ammunition the outcome would not have been good no matter what he was going to do," McDonell said. "Their proactive actions are commendable and may have saved a lot of lives on the transit system this afternoon or in our communities."
Deputy Katherine Zubo, who arrested Goodine alongside Deputy Juan Gonzalez-Valencia, said he was not acting suspicious or displaying erratic behavior.  Instead, she described him as, "a transit patron with a duffle bag,"  who was only noticed because he was standing on the sidewalk and urinating in the planter.
She said she did not see Goodine on the train. Investigators said Goodine got on a train in Chinatown and exited at Sierra Madre.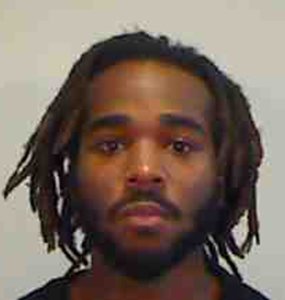 The investigation was ongoing.
Goodine was booked at the East Los Angeles Sheriff's Station on suspicion of possession of a silencer, possession of an assault weapon and possession of a high-capacity magazine. He was being held on $50,500 bail.
Records show Goodine was arrested in 2015 in Key West, Florida and at New York's Waldorf Astoria Hotel wearing a bullet-proof vest, an empty gun holster and a ski mask.